My name is
Lee Min-ho-I
.
I had considered using a stage name because many people confuse me with the other actor Lee Min-ho.
My parents disapprove of that idea though and say that I should work harder instead of changing my name and taking a step backwards. So I'm just going to work hard and live with my name. (laugh)
I was born on June 28, 1993.
My co-stars
Seo Sin-ae
and
Kim Yoo-jeong
asked what I wanted for my birthday this year. I couldn't ask them to buy me a present because I am older than them, so I instead told them to write me a letter. They each gave me a handwritten letter, chocolates and a foam cleanser. I was so thankful.
I am a junior at Paikyang High School.
It's a co-ed school and I sit next to a girl. Most people might think I am popular but I'm actually not. At first, my classmates were fascinated with me but we all became friends once we got to know each other.
The first scene that I shot for "Grudge: The Revolt of Gumiho"
(Gumiho) was when my character Jung-kyu and Yeon-yi (played by
Kim Yoo-jeong
) gets attacked by a flock of birds at a barley field in Gochang-gun located in the North Jeolla Province. It was awkward because Yoo-jeong and I were still getting to know each other and it was really uncomfortable watching the scene because we were staring at a blank blue screen and yelling "Run!" before the CG (computer generated) effects. And the director kept saying "Try to put on a wider smile and look at her in a loving way". (laugh) Yoo-jeong and I have become close ever since because we film together all day.
I was bombarded with text messages from my classmates when the kissing scene between Yoo-jeong and Jung-kyu went on air.
I received messages like "You bad guy, Dog!" and Internet comments said things like, "Oh you bad boy, how can you do that to an elementary school student!" But Yoo-jeong has already shot a kissing scene before while this was my first...
My co-star Kim Yoo-jeong is actually a chic girl.
I bought these magic trick kits when I was in middle school because I liked magic and I showed Yoo-jeong a simple magic trick with chopsticks when we first met over a meal. It would have been nice if her reaction was "Oh wow oppa [word used by younger girls to call an older guy] that is so amazing!"... I think Yoo-jeong was fascinated on the inside but just didn't show it. Her reaction was "Eh, what is that? Give it to me! " Yoo-jeong is very chic!
And one day,
My other co-star Shin-ae comes over and asked "Oppa, why do you only talk with Yoo-jeong and not play with me?" It is because Jung-kyu and Yeon-yi have a lot of scenes together but I decided I should treat Shin-ae a lot better if I made her feel that way.
There is a scene where Jung-kyu leaves Yeon-yi
when she turned into a nine tailed fox. I wanted to show a twist to the story and just fled the scene like I was running away but I kind of regret it because I received many comments like "You bad boy! How can you run away from such a cute fox like her? Poor Yeon-yi!" (laugh) I don't know what is going to happen in the end but I just hope I look cool when Jung-kyu becomes the victim because of Yeon-yi...
After 6th grade,
I grew 16 centimeters in one year. Right now I'm 175 centimeters tall but my goal is to be at least 180 centimeters. I'm a bit worried because it doesn't seem like I'm getting taller but I've been told that guys grow even until they enter the military. (laugh)
It was so much fun shooting "Magic Fighter: Mir & Gaon" with fellow actor Yoo Seung-ho.
Every day I thought about the fun things we should do on set. When we first started shooting we were all young and after a year we changed. We grew taller and hit puberty.
I used to be able to run 50 meters
in six and a half seconds but it rose by a few seconds after I entered high school. I thought to myself "Oh, is it because I'm older?" but fortunately enough, I was chosen as the class representative for the relay race and for soccer.
I love soccer to the point where I wanted to become a soccer player.
I was in a soccer club when I was in middle school and I received the top scorer award. I think I scored 10 goals during about 9 or 10 games.
You can't really call it action but in "
Grudge: The Revolt of Gumiho
",
there are scenes where I practice with swords or I roughly drag around Yeon-yi in a manly way. The director gave me compliments saying "Our action star did a great job!" (laugh)
I love to bring atmospheres to life
so I'm the type that overreacts and give big reactions when I'm with my friends or singing karaoke. I make jokes that don't make sense but they end up becoming empty jokes. My friends start to curse at me once the mood dies out. (laugh) Someone once told me that I should try out my jokes on a variety program...
I would like to appear on a variety show one day.
I think it will be fun to be on "One Night, Two Days" or a talk show like "Steel Heart" or "World Changing Quiz". I don't think I will have anything to talk about on "Steel Heart" though, since I'm still too young…
If I was given a chance to become a singer,
I want to be a part of a group. I think by living together we can make up for the aspects that the other person lacks in. Of course it will be sad to be living away from my parents but it will fun to form a new family. How many members? I think five would be just the right number.
My role models are actors Song Kang-ho and Kim Yoon-seok.
I am still far from being like them but when I see them act, I just love how comfortably they do it, as if it's part of their everyday life.
If I had to choose just one female celebrity
that I like, it would have to be singer
IU
! She's pretty and sings really well. I visited her personal homepage and I felt that she is really kind and considerate to all her fans. This is the first time talking about this...is this going to be written in the interview? Oh no, what do I do!!!
Actor
Lee Min-ho-I
poses during an interview with 10Asia.
Interview with Coffee House Cast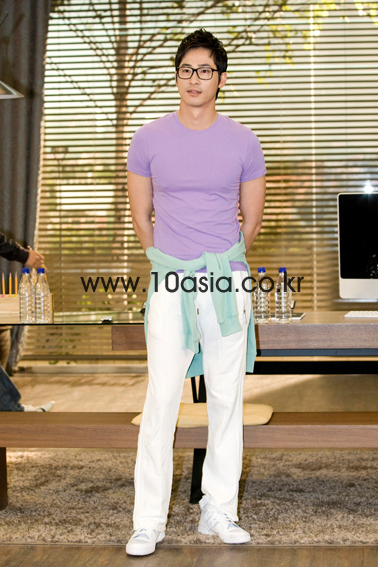 A collaboration of director Pyo Min-soo and scenarist Song Jae-jung. Even at first glance, SBS TV series "Coffee House" seems like a hybrid drama. And the show, which Pyo himself had said would be "between a sitcom and drama," revealed it contains characters who cannot be classified as being simply funny or serious — Lee Jin-soo (played by Kang Ji-hwan) hides his fussy personality behind his gentle smile and Han Ji-won (Jung Woong-in) believes he stands alone in the center of the world. That is why "Coffee House," now into its fifth episode, may be sort of a challenge that its crew and actors are taking on. They revealed what that challenge means for them and how they hope to be perceived during a press conference held at its set in the city of Paju in the Gyeonggi Province on Monday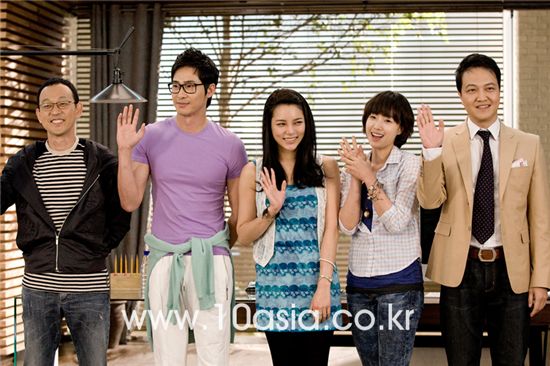 Q: I think imaging scenarist Song Jae-jung's script must have been different from what you have done in the past since he used to do sitcoms.
Pyo Min-soo: I believe that every form of visual media has something in common so I had tried incorporating both animation and plays into my dramas before. And with this drama, I wanted to try using comic book-like expressions. Cuts of a comic containing print. That's why I made scenes where they reminisce look like cuts from a comic book.
Q: The characters are also very comic book-like. For example, Jin-soo is someone you are unlikely to run into in reality so were you able to apply any of your own characteristics to your character?
Kang Ji-hwan: Being meticulous? I think we're similar in that we're both particular about organizing and putting things in order. When you look behind here [Kang walks toward Jin-soo's table] there's a pencil case. I searched through websites to see what kind of pencil case would suit Jin-soo's character but I failed to find the right one. And the one I had in mind was the type military officers might use so I ran this idea through the director and we were able to get this finished product by the help of the props team. So I think my personality in how I pay such careful attention to the props may be similar to that of Jin-soo's.
Q: Since you mention pencils, I heard that director Pyo Min-soo sharpens the pencils himself.
Pyo: Since young, I've used pencils which I've always sharpened myself. And when they become blunt, a member of the crew would sharpen it for me but I'll always re-sharpen it myself. I don't consider myself picky — everyone just has their oddities. I wanted to try expressing that through the drama.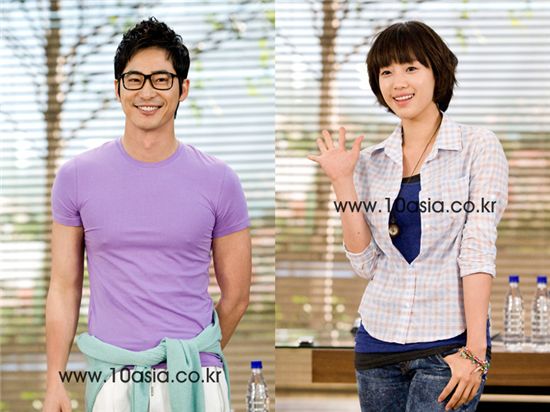 Q: I think those details and unique factors show through how the characters act. The scene where Jin-soo held spit out coffee was an ad-lib which depicted his character very well.
Kang: It was. From the very beginning, the director had told us to act as freely as we want to as long as we don't damage the script. The act of drinking is plain so I decided to spit it back out after wondering how I could leave the script as it is but show my character with impact. When I look at the script, there's a tickling sort of excitement in trying to figure out how to spice up my character. So I really enjoy those kind of scenes.
Jung: I think he's very meticulous. He has become a very elaborate actor after doing a few movies.
Q: What about everyone else? Do you all do many ad-libs?
Park Si-yeon: In my case, I tend to try out things which pop into my head on the spot rather than deciding beforehand. I'll try putting on a pair of glasses I had in my bag or pull up my hair with a colored pencil. Some people don't let you but I can try these comfortably because both the director and actors have flexible attitudes.
Ham Eun-jung: I have to stay loyal to the script to accomplish the mission I've been given. To go into more detail, from my home I'll bring the doll that Seung-yeon will hold in her arms when she's going to bed as well as the props used to decorate her room but I'll let go of the props that I don't need. I'm starting by learning from my senior actors. I have to do what they tell me to do for now. (laugh)
Q: Park Si-yeon, you're playing a character which is very different from your past roles but the response has been pretty good.
Park: I think Eun-young is an interesting character. I've never played a character like her before. That's why I wanted to try a lot of things [with the character] and talk a lot with the director about this and that. It's comfortable and good being able to act the way I want to on set. And I think the viewers are enjoying watching it.
Q: Isn't it difficult having to use three languages?
Park: I don't know any Japanese so I actually received a few lessons from my friend but that too was fun. Speaking a language that isn't Korean. And as for English, I had thought I'd be good at it because I went to school in the U.S. but… (laugh) I wish I was a bit better at it.
Q: Ham Eun-jung, like you said yourself, you're still at a learning stage. How do you feel about people's response?
Ham: I know everybody else probably thinks this but I have many weaknesses. I try to correct myself after seeing what I've done wrong or right after I watch every episode. I guess I can't help having been more awkward in the beginning. As for the response, I'm not paying too much attention to it. I'm just focusing on the shoots.
Q: Are you satisfied with viewer's response for the show so far including its ratings?
Kang: I don't know if I should use the word 'adventure' but going into it, it was an adventure for me because I thought of this drama as something between a sitcom and a mini series. That's why I was even more curious about how viewers would respond. And I was hoping to take off where former drama "Oh! My Lady" left off, with ratings in the early 10 percent range, but that didn't quite work out. I am a bit disappointed that we weren't able to get off to a better start being up against the nine o'clock news of two public networks which were reporting on several important issues such as the sinking of the Cheonan naval ship. But I am confident about out story and I'm satisfied about us making a new attempt. While the beginning has been a bit like a sitcom, the latter half will become more like a mini series which I'm confident about.
Q: In that sense, I'm a bit curious about what will happen in the fifth and sixth episodes which take place on the island of Jeju.
Park: There's a scene where, while I'm acting haughty, I fall over while in my room taking a shower. I ask an employee to hurry and come help me but Jin-soo comes up and I end up having to show him a flaw of mine.
Ham: I want to see it. Her body.
Park: You won't get to see it. (laugh) I don't know how the edited version will look but we ourselves had fun shooting it. But he bumped his head into the ceiling while carrying me. I guess he had a hard time staying in the proper position because I was very heavy.
Jung Woong-in: I've tried carrying her before so I know. (laugh)
Q: How will the romance develop?
Pyo: While the story has developed in a comedic way in the first two episodes, through today's shower scene, a dramaturgy will form between Jin-soo and Eun-young. Then the show will go back to giving off a happy vibe. I'm someone who hopes people love in order to become happy. You love to be happy, not to fight. So I'm fine with how it's shown, whether it be through dramaturgy or humor, as long as that's what it is aiming for. Just like human beings use both their left and right hand, I want to try using everything that's possible.
Q: The romantic plot revolves around Ji-won's (played by Jung Woong-in) affection for Eun-young. How do you hope it will develop in the episodes to come?
Jung: They say little strokes fell great oaks but I myself don't think Ji-won is a who approaches a girl the right way. And I think Eun-young would feel the same way about him too but I think he will take a different approach in wooing her. He'll act more like the person he is, trying to reach out to her by helping her with work. He is someone who is sure of himself so I think he'll make Eun-young fall in love with him by using his brains and personal connections.
Q: He has sung for her and done events too.
Jung: I don't know what you'd think of me if I say this but it was very difficult to do. Kim Dong-ryul is a great singer. (laugh)
Q: Will there be a change after the fifth and sixth episode to how Jin-soo and Eun-young are in a relationship where they keep squabbling?
Kang: Well, Eun-young is like a blessing, a soulmate to Jin-soo. So I think a romantic plot will slowly start to emerge between them too but that's all I've heard from the scenarist and I don't know what will happen after so it's hard for me to say more. I just think that there'll be much development in their situation.
Q: Then like you said, that may lead to how the vibe of the show changes to that of a mini series.
Pyo: Starting from around the 12th episode, the change will be so big that you'll wonder whether you're still watching the same drama. What myself, the scenarists and actors are set to do are not to create something that has already solidified but a show that self develops.
Song Seung Hun Interview

"I have to continue to strive to improve my acting ability." - Song Seung Hun

Actor Song Seung Hun is one of the so-called "Hot People" because he is a representative "pretty man" and Hallyu star, who is very popular in the Asian region. And he became a romantic actor with his appearance in the MBC TV drama "My Princess," which had finished airing on February 24, by playing an elite diplomat and heir of a chaebol named Park Hae Young. Song came to a restaurant located in Nonhyundong for an interview the very next day after the drama aired its last episode, and talked about many things regarding himself, now 16 years after his debut.

Q: Did you have a good sleep? I heard that you had a killer filming schedule for "My Princess."

A: On February 24 when the last episode aired, I filmed the drama until six in the evening and then we had a culminating party right away. Even though I did not drink a lot of alcohol, I was completely out of it, maybe because I was too tired. I heard that my manager had tried to wake me up in front of my house for almost one hour. But today I woke up early at seven in the morning. I could not get enough sleep for the last two months, so I could not sleep more in the morning. Since I could not watch the last episode yesterday due to the party, I just watched the last episode.

Q: How do you feel after finishing the drama? I guess that you might feel sad about missing many things.

A: Honestly, there were some moments when I had the thought, "I might not be able to finish this episode until the day it has to be aired." The filming schedule was so tight. I feel very happy that we could finish the drama without any problem. Of course, there are some things that I feel sorry about, but the drama itself and the character that I played were so exciting to me. I think that any experience could become my asset.

Q: Why did you choose the romantic comedy genre right now?

A: I had recently worked in "heavy" works such as the drama "East of Eden" and the movie "A Better Tomorrow." And when people around me had begun to tell me that they actually miss the "funny character" whom I played in my debut sitcom drama "Three Men Three Women," I had received the suggestion from "My Princess." I read the scripts for the first episode through the fourth episode, and they were so interesting. At that time, I did not know whether the script for the later episodes would come out this late (laugh). When I was younger, I wanted to be looked upon as impressive, and I tended to choose works which had lingering images rather than happy endings.

Q: How did you feel after acting in a romantic comedy? People responded favorably about your acting in a romantic comedy.

A: I have played characters who are always serious so far, so this character was so much fun. I felt like I was coming to the film set to play a game. Even though following the tight filming schedule was very difficult, the acting itself was very exciting. I had to play a character who has burdens in his life in the previous works, but this time I did not need to feel burdened about life and I felt really good about it (laugh). If I can have the chance, I want to appear in a romantic comedy movie again.

Q: You have not presented any love scenes that created goose bumps before. Did you actually fall in love with actress Kim Tae Hee?

A: If you think so, it might be because of our perfect acting ability (laugh). We filmed the drama very comfortably, and it was as enjoyable and exciting as if we were actually on a date. The behavior that the character Park Hae Young had shown when he made fun of her was so similar to mine, but actually I am a much more aggressive person, so sometimes I felt frustrated about Park Hae Young's passive behavior towards Kim Tae Hee. Park Hae Young hesitated to marry Lee Seol due to the allegation of tax evasion, but I could not agree with his hesitation. If his love were true, it might not become any problem. If I were him, I might suggest Lee Seol run away somewhere with me.

Q: It was so lucky that you could play this character that perfectly matches your image, but I felt so bad at the same time because if you acted in this genre when you were little more "pretty," I mean when you were in your twenties, it might be much better. Now you have already reached your mid-thirties. Do you think that you have become old?

A: Honestly, I do not feel that I am old. I was surprised when I heard that actor Lee Ki Kwang ,who also appeared in the drama, was 22 years old, but I still feel like I am a high school student. It might because I still get along with high school friends, but actually we hang out in the same manner that we had done at that time (laugh).

Q: Even though you could not feel any changes in your age, you might feel some differences. What kind of differences do you feel?

A: My attitude towards acting has been changed. After I finished my military duty, I came to have different thoughts. I feel more responsibility and I can feel excitement that I did not know before. I tended to act like a machine when I had a script in the past, but now I think about other things, like what I can do besides those lines written on the script. I have come to know the importance of harmony in the drama and I also consider viewers and think that I should make my fans enjoy watching my acting. I acted to satisfy my desire in the past, but now I want to find out some things that I can do for my fans with my acting. When I received a letter from a fan living abroad who said that she came to know Korea and like Korea because of me, I could realize the impact of Hallyu. I did not think about that impact when I acted, but actually there was some impact imparted from my acting, so I think that I have to also consider the impact of my acting, and those thoughts have become responsibility. In addition, I am very excited when I act. I want to act not only as my career, but also as an enjoyment to me, and I am actually enjoying myself while acting. People still say something about my acting ability and I have to give more effort to improve my acting ability. Anyway, now I am learning about the pleasure of acting.

Q: Why didn't you have a desire for acting in the past?

A: I had never thought about becoming an actor when I was young. I thought that being an actor was someone else's story who had been destined to become an actor. I was just an ordinary person and became an ordinary university student. In 1995 when I worked as a part timer, a person who introduced himself as a staff member of the Storm clothing company suggested I apply as a model in his company, and I applied and suddenly became the main model for the company. Actually a member of the group Deux, Kim Sung Jae, was the main model and So Ji Sub and I were supporting models. When the late Kim Sung Jae suddenly died, we unexpectedly became the main models. After that, I came to appear in the sitcom "Three Men Three Women" without any preparation. I could not even think about my desire at that moment because I could not prepare anything at all, so I was greatly criticized due to my bad acting ability. But now things have changed. Acting is something that I can do very well and that I have invested in for almost ten years up until now and something that I will do for my entire life. When I was in my twenties, I just thought that acting was my career and sometimes I was full of conceit, but now I have come to think of my fans and people first before myself.

Q: Is there anything that you are afraid of? Do you feel afraid about losing popularity?

A: From the time when I began acting, I heard a lot that I should not focus on popularity, so I actually do not cling to popularity that much. Since I am a human being, gaining popularity might be much better than losing it. But I know very well that I cannot be a star actor forever. When I acted with senior actor Kim Soon Jae in "My Princess," I could see that he had huge enthusiasm about acting and his passion for acting looked so wonderful to me, and I came to have the thought that I wanted to become an actor like him. I also felt ashamed about myself. When he was young, he was completely absorbed in studying acting, but I could not give endeavor for acting enough like him when I was young, because I did not study and I did not have the dream of becoming an actor, so I feel really sorry and regret it now.

Q: What do you usually do when you have free time?

A: I usually hang out with my friends or exercise. I play golf from time to time, but I am not good at it. My life seems to be very boring (laugh).

Q: Do you have any plans about marriage?

A: I want to form a good family, but it is not that easy. I do not have a girlfriend, either. I do not know... maybe my soul mate will suddenly appear. I would marry her.

At the end of the interview, he said, "Everything seems to be decided by relationships with others. In the past, I did not care at all about someone whom I did not like because I thought that the person had nothing to do with me, but now I want to have a good relationship with others anyhow."